In the ever-evolving landscape of Pakistan's telecommunication sector, change is the only constant. As the nation strides forward, embracing digital transformation, a new player emerges on the horizon – ONIC Sim. This groundbreaking digital telecommunication service is not just another addition to the market; it promises to redefine the way Pakistan communicates.
With its rapid support, seamless activation, and offline convenience, ONIC Sim has swiftly captured the attention of millions. But what truly sets it apart? As we delve deeper into the world of ONIC, we'll uncover its unique offerings, competitive pricing, and the potential it holds to revolutionize the telecommunication experience in Pakistan.
Stay tuned as we unveil the comprehensive details of ONIC Sim. And for those eager to explore its services firsthand, we'll provide a direct download link once the official announcement is made.
Packages and Pricing
In today's fast-paced digital age, consumers demand value for money. ONIC Sim, understanding this need, has introduced a range of packages that cater to diverse user requirements. Whether you're a data-hungry user, a frequent caller, or someone who loves texting, ONIC has got you covered.
Table: ONIC Sim Packages Overview
| | | | | | |
| --- | --- | --- | --- | --- | --- |
| Package Name | Data Volume | Call Minutes | SMS | Price (PKR) | Validity (Days) |
| Onic Big Data Package | 30 GB | Unlimited | 5,000 | 890 | 30 |
| Epic Data Package | 100 GB | Unlimited | 10,000 | 1,290 | 30 |
| Limitless Data Package | 200 GB | Unlimited | 10,000 | 1,990 | 30 |
Note: Prices and package details are subject to change as per ONIC's policies.
These packages have been designed keeping in mind the diverse needs of the Pakistani populace. From students to professionals, from casual users to tech enthusiasts, there's something for everyone. The competitive pricing ensures that users get the best value for their money, making ONIC a preferred choice for many.
Stay with us as we delve deeper into the promotional offers that make ONIC even more enticing!
Promotional Offers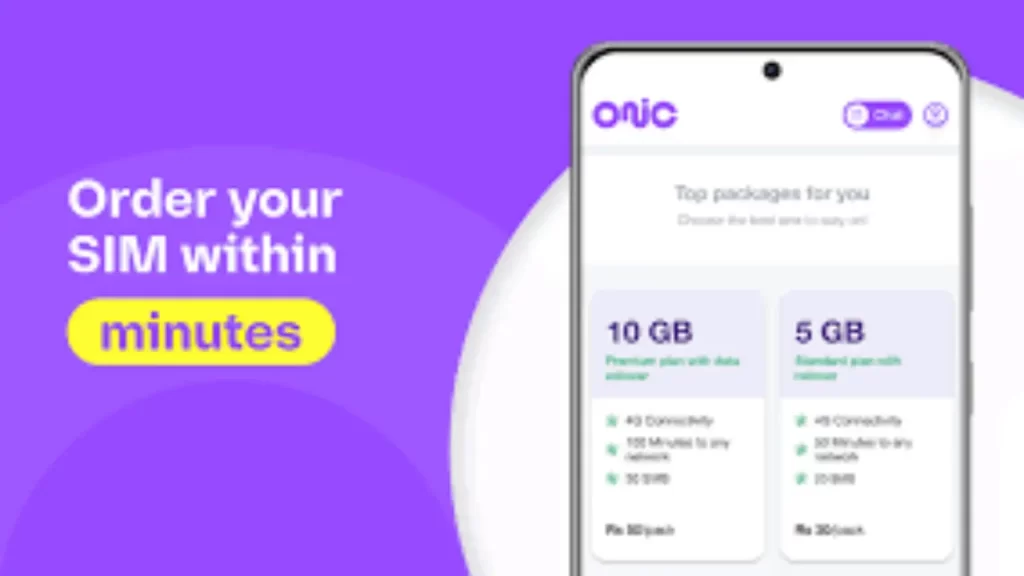 In a market teeming with competition, ONIC Sim doesn't just rely on its competitive pricing to win over customers. The company has rolled out a series of promotional offers, ensuring that new users get more than they bargained for. These promotions not only provide added value but also serve as a testament to ONIC's commitment to customer satisfaction.
Table: ONIC Sim Promotional Offers
| | | |
| --- | --- | --- |
| Promotion Name | Offer Details | Validity (Months) |
| Golootlo Subscription Voucher | Vouchers Worth Rs.200 | 3 |
| Daraz Shopping Voucher | Voucher Worth Rs.300 for shopping on Daraz.pk | 3 |
Note: Promotional offers are available for a limited time and may vary based on ONIC's marketing strategies.
These promotional offers are a testament to ONIC's strategy of not just attracting new users but also retaining them. By partnering with platforms like Golootlo and Daraz, ONIC ensures that its users get the best deals, both in terms of telecommunication and lifestyle offers.
But that's not all! ONIC has more in store for its users. As we proceed, we'll explore the seamless process of purchasing and activating the ONIC Sim, ensuring you're connected in no time.
Purchasing and Activation
Stepping into the world of ONIC Sim is a hassle-free experience. The company has streamlined the process of purchasing and activating the SIM, ensuring that users can quickly get started with their new telecommunication journey. Whether you're tech-savvy or new to the digital realm, ONIC's user-friendly approach ensures a smooth transition.
Table: Steps to Purchase and Activate ONIC Sim
| | |
| --- | --- |
| Step No. | Process Description |
| 1 | Visit the official ONIC website: www.onic.pk |
| 2 | Choose the "Order Now" option and select the desired SIM card type. |
| 3 | Fill in the necessary personal and contact details. |
| 4 | Opt for your preferred delivery method: in-store pickup or home delivery. |
| 5 | Proceed to payment options. Multiple methods are available: credit/debit cards, internet banking, mobile wallets, etc. |
| 6 | Once received, visit an authorized retailer with a valid ID proof to activate the ONIC Sim. |
Note: Ensure that you're in an area with ONIC network coverage for optimal service.
The unique aspect of ONIC's activation process is its emphasis on security and user verification. By requiring users to activate their SIMs at authorized retailers, ONIC ensures that each SIM is registered to its rightful owner, adding an extra layer of security.
But what truly sets ONIC apart? As we delve deeper, we'll uncover the unique features and offerings that make ONIC Sim a standout choice in Pakistan's telecommunication landscape.
Unique Features
Every telecom provider has its signature offerings, but ONIC Sim takes it a notch higher with features that truly set it apart in the crowded telecommunication market of Pakistan.
Table: ONIC Sim Unique Features
| | |
| --- | --- |
| Feature Name | Description |
| Serial Number | All ONIC Sim cards in Pakistan start with the unique serial number 0339. |
| eSIM Option | Apart from the traditional physical SIM, ONIC offers eSIM options for users with compatible devices. |
| Swift Activation | ONIC prides itself on its rapid activation process, ensuring users are connected in no time. |
| Offline Convenience | Even without an active internet connection, users can access key features, enhancing offline usability. |
Note: Features availability might vary based on device compatibility and network coverage.
The introduction of eSIM by ONIC is a testament to its forward-thinking approach, catering to the next generation of devices and ensuring that its users are always ahead of the curve. Moreover, the unique serial number not only aids in efficient network management but also gives a sense of exclusivity to its users.
As we journey further, we'll dive into the market analysis, understanding ONIC Sim's position, its impact, and the potential it holds in the dynamic telecom sector of Pakistan.
Market Analysis
The telecommunication sector in Pakistan is a vibrant and dynamic arena, with several players vying for a significant market share. The introduction of ONIC Sim has added a fresh dimension to this competitive landscape. But where does ONIC stand, and what implications does its entry have for consumers and the industry at large?
Table: Market Implications of ONIC Sim
| | |
| --- | --- |
| Implication Name | Description |
| Competitive Pricing | ONIC's aggressive pricing strategy is set to challenge existing players, potentially leading to overall price reductions. |
| Enhanced Connectivity | Collaborations with established networks like Ufone ensure ONIC users get exceptional service coverage. |
| Digital Transformation | With features like eSIM, ONIC is pushing the boundaries of digital telecom, paving the way for a tech-forward future. |
| Consumer-Centric Approach | ONIC's promotional offers and customer service focus on enhancing user experience, leading to higher customer satisfaction. |
Note: The market implications are based on current trends and might evolve with changing market dynamics.
ONIC's entry is seen as a game-changer, especially considering the high taxes and pricing strategies of other telecoms. Its collaboration with established networks ensures a blend of innovation and reliability. The emphasis on digital solutions, like eSIM, indicates a shift towards a more tech-savvy telecommunication environment in Pakistan.
As we wrap up our comprehensive overview, we'll provide recommendations for potential users, ensuring they make an informed choice when considering ONIC Sim.
Recommendations
In the vast sea of telecommunication options available in Pakistan, making an informed choice can be daunting. With ONIC Sim's entry into the market, consumers have another viable option to consider. But is ONIC the right choice for you? Here are some recommendations to guide potential users:
Table: Recommendations for Potential ONIC Sim Users
| | |
| --- | --- |
| Recommendation Type | Description |
| Data-Heavy Users | If you consume a significant amount of data, ONIC's data packages offer substantial volume at competitive prices. |
| Budget-Conscious Users | With promotional offers and aggressive pricing, ONIC is an excellent choice for those looking for value for money. |
| Tech Enthusiasts | The introduction of eSIM and other tech-forward features makes ONIC a preferred choice for those keen on using the latest tech. |
| Security-Conscious Users | ONIC's activation process at authorized retailers ensures added security and proper SIM registration. |
Note: Recommendations are based on current offerings and might change as ONIC introduces new features or packages.
In conclusion, ONIC Sim's introduction to Pakistan's telecommunication landscape is a breath of fresh air. With its competitive pricing, innovative features, and customer-centric approach, it promises to offer a unique and efficient telecommunication experience. Whether you're a student, a professional, or someone just looking for reliable connectivity, ONIC Sim is worth considering.
Frequently Asked Questions about ONIC Sim
Conclusion
The telecommunication sector in Pakistan has always been a hotbed of competition, innovation, and change. With the introduction of ONIC Sim, the dynamics are set to shift even further. Offering a blend of traditional telecom services with a touch of modern digital features, ONIC Sim is not just another player in the market; it's a game-changer.
Its commitment to providing value, both in terms of service quality and cost-effectiveness, makes it a formidable contender. The emphasis on customer satisfaction, coupled with innovative offerings like eSIM, positions ONIC Sim as a forward-thinking entity in the telecom world.
For consumers, the arrival of ONIC Sim translates to more choices, better services, and competitive prices. It's a reminder that in the world of business, especially telecom, evolution is the key to survival and growth.
As we await further announcements and offerings from ONIC, one thing is clear: the future of telecommunication in Pakistan is bright, and ONIC Sim is poised to be a significant part of that luminous journey.